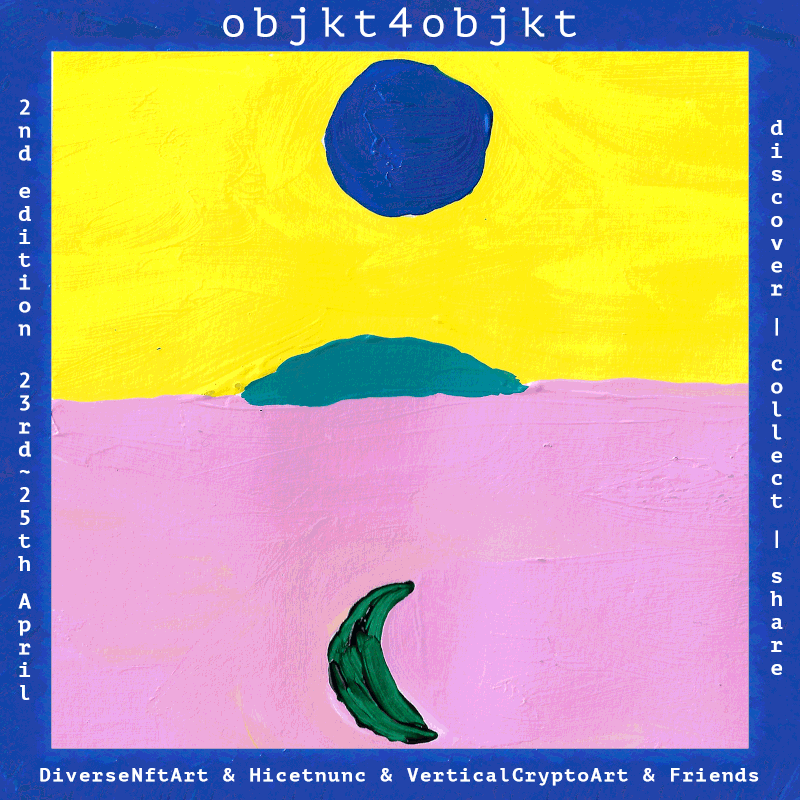 OBJKT
4
OBJKT

23RD ~ 25TH APRIL 2021
2ND EDITION &
VIRTUAL EXHIBITION
DiverseNftArt is happy to announce OBJKT4OBJKT second edition and the first OBJKT4OBJKT Virtual Exhibition in partnership with Hicetnunc, VerticalCryptoart, @Esclaponr and @jaxjmart.
It's nearly been a month since the first OBJKT4OBJKT event, which was in celebration of 10k minted OBJKTs on Hic et nunc, and now we are almost at 50k! The growth of the Hic et nunc community has been amazing and we would like to invite everyone to join us in #OBJKT4OBJKT 2nd edition swap weekend! During this weekend we encourage you all to mint and collect OBJKTs for free. We believe that the OBJKT4OBJKT initiative helps to create a happier and healthier community within Hic et nunc and that by removing the monetization barrier it will help other artists and collectors to discover and build a more diverse art collection.
We would like to kindly remind everyone to only take 1 edition of any artwork you collect. We also suggest that artists write on their OBJKT description that it's part of the #OBJKT4OBJKT event. Also adding "OBJKT4OBJKT" as a tag, in case its put on the secondary market the buyer(s) will be aware. We also recommend artists mint 500+ editions to prevent people collecting multiples of the same edition.

How to participate:
✸ Friday April 23rd ~ Sunday April 25th: sign up on hicetnunc
✸ Mint new OBJKTs for 0 Tezos (add #OBJKT4OBJKT tag), we suggest 500+ editions
✸ Fill in the form
✸ Share your OBJKTS on Twitter to help others discover them easier
✸ Share, collect and discover!

Suggested tags: #OBJKT4OBJKT #cleanNFT#NFTArt #NFTArtist #NFTCollector #swapNFT #cryptoart #Tezos #XTZ #hicetnunc

OBJKT4OBJKT 2nd edition
The first OBJKT4OBJKT Virtual Exhibition will be hosted on Cryptovoxels. Come join us for a weekend celebrating all the amazing artwork that was shared for free with the hicetnunc community. The exhibition display was built by @Esclaponr and @jaxjmart.
It is a pleasure to be able to exhibit so many artworks from such a diverse range of artists. We hope that everyone can attend and also get to know each other in the metaverse.
On Saturday at 7pm CET, VerticalCryptoart will host on Hicetnunc Discord an open talk for artists to share about their art and artistic process, this talk will also going to be livestream at the exhibition. At 8pm CET, there is going to be the traditional livestream Hicetnunc & Friends on twitter.



OBJKT4OBJKT Virtual Exhibition
CryptoVoxels tips


• OBJKT4OBJKT 2nd Edition
• OBJKT4OBJKT 2nd edition
• Explore Rickie's art collection from hicetnunc on Cryptovoxels


• OBJKT4OBJKT 2nd Edition
• OBJKT4OBJKT Virtual exhibition
• Collect special OBJKT by DiverseNftArt during the event 0 Tezo
• 7pm CET - open talk hosted by VerticalCryptoArt at Hicetnunc Discord
• 8pm CET - Hicetnunc & Friends Livestream on VerticalCryptoArt twitter


• OBJKT4OBJKT 2nd Edition
• OBJKT4OBJKT Virtual exhibition
• Collect special OBJKT by DiverseNftArt during the event 0 Tezo
Programme schedule:
✸ April 24th
✸ April 23rd
OBJKT FORM
OBJKT LIST
FEEDBACK & SUGGESTIONS
HICETNUNC DISCORD
OBJKT4OBJKT EXHIBITION AT CRYPTOVOXELS
RICKY'S ART COLLECTION
ABOUT US
twitter
instagram
hicetnunc
VerticalCryptoart
@Esclaponr
@jaxjmart
✸ April 25th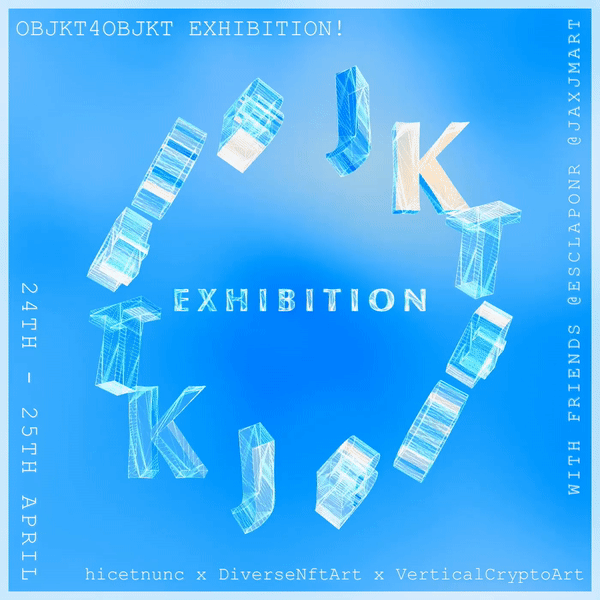 Report multiple collectors
OBJKT4OBJKT LIVE FEED
BY @UNDESIN